invocations

I love daylight savings! It's 5:33pm and still bright outside, still lovely as it was when I was at Cottesloe beach earlier today. More hours of sunlight for me to enjoy!

So, some pencil/charcoal sketches. Next time I'm bringing a freakin' pencil sharpener.


---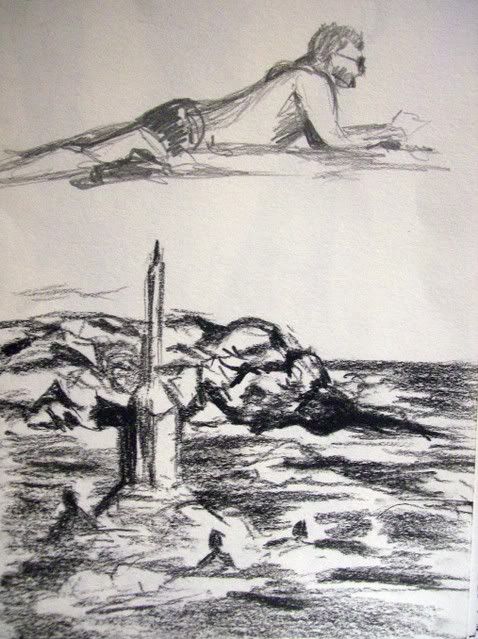 I think the guy caught on that I was drawing him. I felt like a perv! (Pencil)
I would like to bring some colour next time so I can attempt to capture choppy water better...well, more interestingly. (Compressed charcoal)
Amy's legs! Quickly done. Couldn't be bothered drawing the sand.
These people were in my line of vision for about 30 seconds, maybe less! The lady was walking away from me towards the shore, and the guy stood still before moving off with his body board. Pencil, 2B/8B.
Amy, who sat still for about 5 minutes. A rather unfantastic drawing. I'm glad I tried outlining her first with willow charcoal because I started too high up on the page and was able to move the whole image down. Sometime during this, the wind picked up my little stub of willow charcoal and blew it away! Filled in with compressed charcoal when I got home.
One thing (re)learned today is that I don't draw small so well.