invocations

Pride and Prejudice- the BBC miniseries, not the sucky movie version starring Keira Knightley- is easily the best book-film adaptation. Ever! I bought the DVD duo last month to celebrate handing in a thesis and watched all 6 hours of it in one hit. Um, so I was watching it again last night (Mr Darcy, mmm!), and since I'm all itchy-fingers, watched with sketch pad in hand. XD

ETA: Two charcoal pages.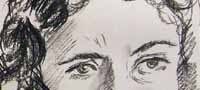 ---
All drawn really quickly but with liberal use of the pause button. XDD I tried to use as few lines as possible. I also accidentally made stupid Mr Collins look more dashing.
Markers are so much fun to use! I used to have a pack of Crayolas but they ran out. ;_; The next time I go to Singapore, I'm going to buy more markers. Especially calligraphy markers for their finer chiselled tip (for personal reference, the one I've bought a couple of is this brand:
Marvy Calligraphy Duo 6800
from Art Friend in Bras Basah). Next time I'd like to try using different coloured markers for tone instead of relying on a partially dried-out marker!
ETA:
Two more pages. Because this thing is lengthy, even if I did start watching at the last few chapters! Had a go with willow charcoal and charcoal pencil this time. Still can't capture the good looks of Mr Darcy!
"I am only resolved to act in a manner that will constitute my own happiness, without reference to you or to any person so wholly unconnected with me."
.