invocations

Summer is more or less here and I am on holiday, so today I went to the beach! The mission was to sleep in the sun, have a dip in the still water and read my book (re-reading The Farthest Shore, by Ursula Le Guin). Also, to sketch if I felt like it, in a small bid to get into figure drawing a bit more. ^^ So here's a few unexciting pen sketches from the little A5 book. ^^




---
On the train to the city...
...my sister's foot (she was sitting next to me).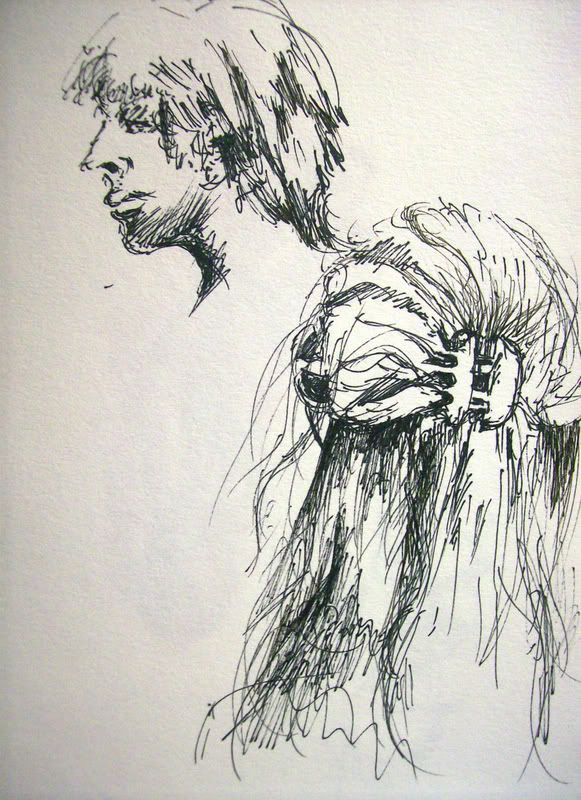 Some passengers on the train- unfortunately, all I could see were their heads.
Tried giving conte crayons a go for this sunbather. Perhaps it's just my way of drawing, but I think conte works better for at least A4-sized drawings.
My friend, who was reading next to me.
And, one that I found but hadn't posted; my grandmother, who I drew while I was in Singapore earlier this year. Didn't really do her justice:
I think I'd use charcoal a bit more if I wasn't on the go- pens are just so much easier to cart around and I like using them even if it's a harsh and unforgiving medium. ^^ If I keep practicing, perhaps this figure drawing stuff will start improving. Right now, I just can't seem to simplify the figure enough (because I don't know it
well
; you can't simplify what you don't know) and I have trouble, sometimes, drawing tonally. Then again, pens don't lend themselves that well to tone, but oh, such pretty lines they make. Calligraphy pens. <3
Difficulty in live drawing? People don't bloody stay still. ;_;